Categories:
Fashion
Hailee Steinfeld covers the September 2016 issue of Seventeen magazine.
The star of The Edge of Seventeen, Hailee Steinfeld covers the September 2016 issue of Seventeen. Opening up to the magazine about how she relates to her character, Steinfeld shares, "This girl goes through experiences I totally went through, where it felt like it was the absolute end of the world. Just having so many moments where you question who you are and what it is that you're good at and what you feel good in. I was homeschooled for a reason, and that was because of social issues."
HAILEE STEINFELD SEVENTEEN PHOTO SHOOT
Hailee Steinfeld twirls in a flirty white dress for the pages of Seventeen magazine.
Confiding about her past where she was bullied, Steinfeld confesses, "There was a period of time where every morning at 7:02, I'd get a prank phone call at my house. That's how I'd start every day, with a threat saying, 'Come to school now. We're going to kick your butt.'"
Hailee Steinfeld photographed by Jason Kim for the pages of Seventeen magazine.
The 19-year-old actress continues, "So I went to school early and went in the back way. And there would be times when I'd come back to my desk and have hand sanitizer all over my books and in my water bottle. People would come by and slam my locker shut when I was still putting my books in it. It was just the most absurd things that you are supposed to see only in the movies, you know?"
comnum(0) tbcount(0) tbcount(3)
Categories:
Louis Vuitton
IMAGE: LOUIS VUITTON
Because it's never too early to keep you guys updated as far as new bag arrivals are concerned, here's your quick first look at Louis Vuitton's Speedy Bandouliere 30 Voyage Stickers, which is officially set to be released in Singapore (and around the region) come 1 October 2016, though honestly I've already been seeing it pop up all over Instagram.
IMAGE: LOUIS VUITTON
Simply put, it's basically a Speedy Bandouliere 30 (you know, a Speedy but with a sling) and with 'stickers', actually printed graphics that you'll find on the front and the side of the bag. Reminiscent of the stickers we've all seen during Louis Vuitton'sSeries 3 exhibition in Singapore, there's no doubt that it's definitely a fun bag, with flamingos, a vintage sports car and a steering wheel (???) all thrown in for good measure. Priced at SGD2330, the 30 cm by 21 cm bag will also come in a miniature version, the Nano Speedy (also with sling) which will retail for SGD1510.
IMAGE: LOUIS VUITTON
Cute yes, but here's my question. Would you stick to the classics and just get the plain Speedy, or is this something that you'll want to add to your collection as well? What say you? Oh, and in case you're wondering, the Nano Speedy measures 16 cm by 12.5 cm.
Tags: Louis Vuitton speedy 30 Bandouliere Stickers Voyage
comnum(0) tbcount(0) tbcount(6)
Categories:
Other Brands
The new Diorama Wallet On Chain Bag is a new bag from Diorama. A captivating small evening shoulder bag perfect for gala nights and other occasions, this one will definitely be a scene-stealer!
Well-structured and stylish, this Wallet On Chain bag pouch in Hyper Pink Gold metallic crackled deerskin leather is accessorized with an oversized graphic cannage motif. Its crest-shaped clasp in silver-tone metal is the tell-tale sign that is made made from the House of Dior.
This Diorama WOC is a practical bag to take with you as it can hold your essentials such as phone, car keys, and credit cards to name a few. It can also be carried across the body, on the shoulder or in the hand, whichever way you prefer.
Inside it offers a large interior compartment, 4 card slots, 1 flat pocket, 1 zipped pocket and 1 removable 120 cm chain. It measures 19 x 12 x 3 cm and is priced €1200 euro, £950 GBP, ¥1,950,000 Yen.
comnum(0) tbcount(0) tbcount(3)
Categories:
Fashion
Cara Delevingne on LOVE Magazine Fall/Winter 2016 Cover
'Suicide Squad' co-stars Cara Delevingne and Margot Robbie join forces for the fall-winter 2016 issue of LOVE Magazine. The actresses each land their own cover wearing matching blue eyeshadow and crimped hairstyles. The two are named 'Mean Girls' for the spread featuring retro inspired fashions. Photographed by Willy Vanderperre and styled by Katie Grand, Cara and Margot wear the designs of Vetements, Burberry, Saint Laurent and more.
In the interview, Margot Robbie talks about her character Harley Quinn's costume in 'Suicide Squad'."We probably tried on a hundred different versions of the outfit, and at some point [costume designer] Kate Hawley came across a picture of Debbie Harry and we were like, 'Oh, that's it. That's dope.'"
Margot Robbie on LOVE Magazine Fall/Winter 2016 Cover
Margot continues, "'What she's wearing – I don't care how revealing it is if she wore it because she liked wearing it. I don't want it to look like she wore it because she wants a guy to think she looks hot in it. No way."
Cara Delevingne and Margot Robbie wear bold makeup looks in the feature
Margot Robbie wears striped shirt by Vetements with Burberry red sequined tracksuit jacket
Cara Delevingne gets her closeup in Fendi shades
Margot Robbie poses in Cutler and Gross shades
Margot Robbie lounges in Undercover couture dress
Margot Robbie suits up in Vetements plaid jacket and pleated skirt
Margot Robbie wears leather look with her hair in 1980's inspired waves
Photographed in black and white, Margot Robbie wears Saint Laurent hat with polka dot scarf
comnum(0) tbcount(0) tbcount(3)
Categories:
Other Brands
It feels as though it's been New York Fashion Week for approximately a month and a half, and even though that's a bit hyperbolic, the event does spill beyond the traditional bounds of a seven-day week to accommodate more shows than any other. That means, of course, that NYFW also has more than its fair share of notable attendees with head-turning bags hanging from their arms.
As we do every fashion week, we've pored over event images to zero in on the best bags, and we've compiled them, along with their owners (or, let's be real--sometimes, they're borrowers) below. It's easily our favorite way to send another NYFW into that blue yonder.
1 / 40
Aimee Song
Chloé Faye Bag

Aimee kept more of a low profile at NYFW than she has in recent seasons, but we're glad paps caught her with this particular Chloé bag; it's a beauty.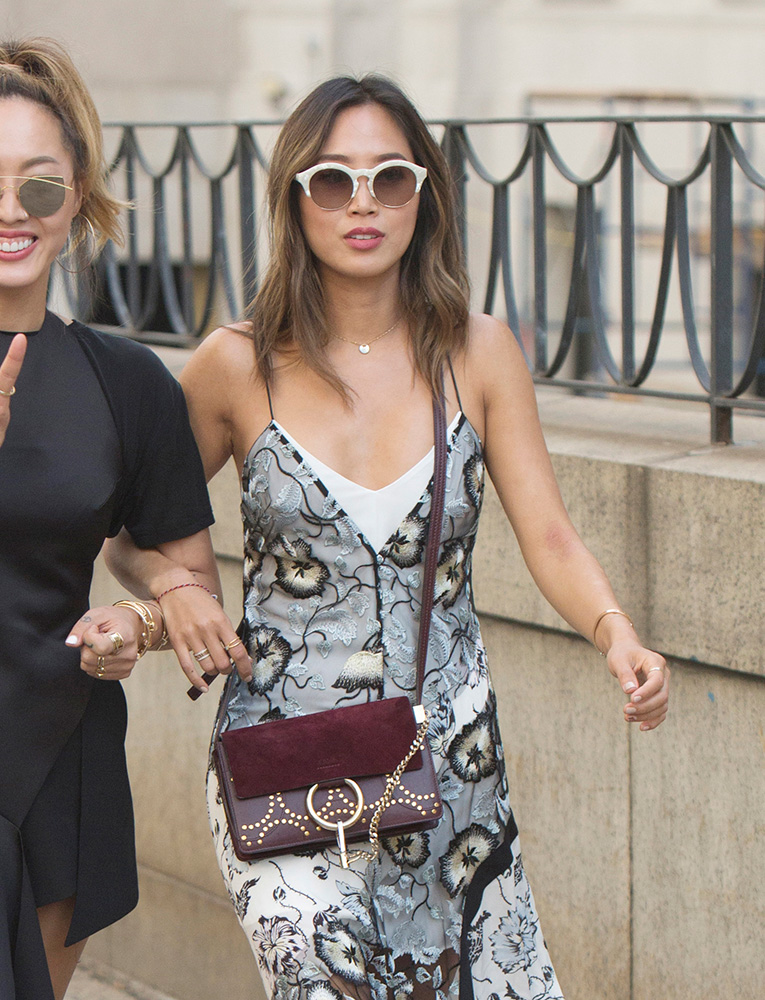 2 / 40
Bella Hadid
Dior Diorama Bag
Bella didn't surface until the very end of fashion week, despite the fact that her sister has been galavanting about for the entire thing.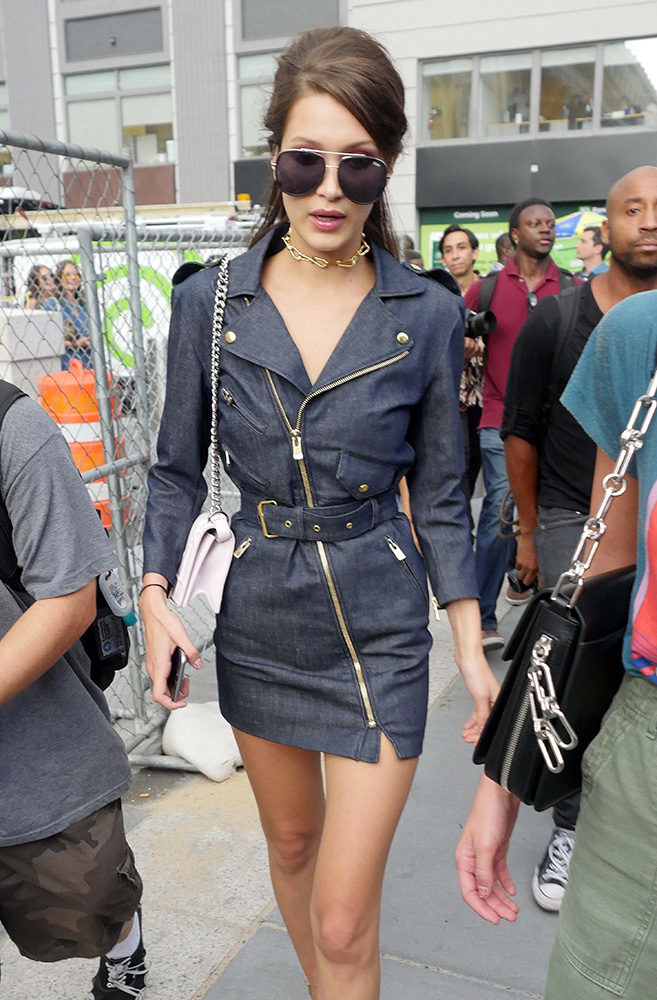 3 / 40
Chriselle Lim
Altuzarra Ghianda Mini Saddle Bag

We don't talk about it quite enough, but Altuzarra's bags are probably my favorite newcomers to the market in the past two years.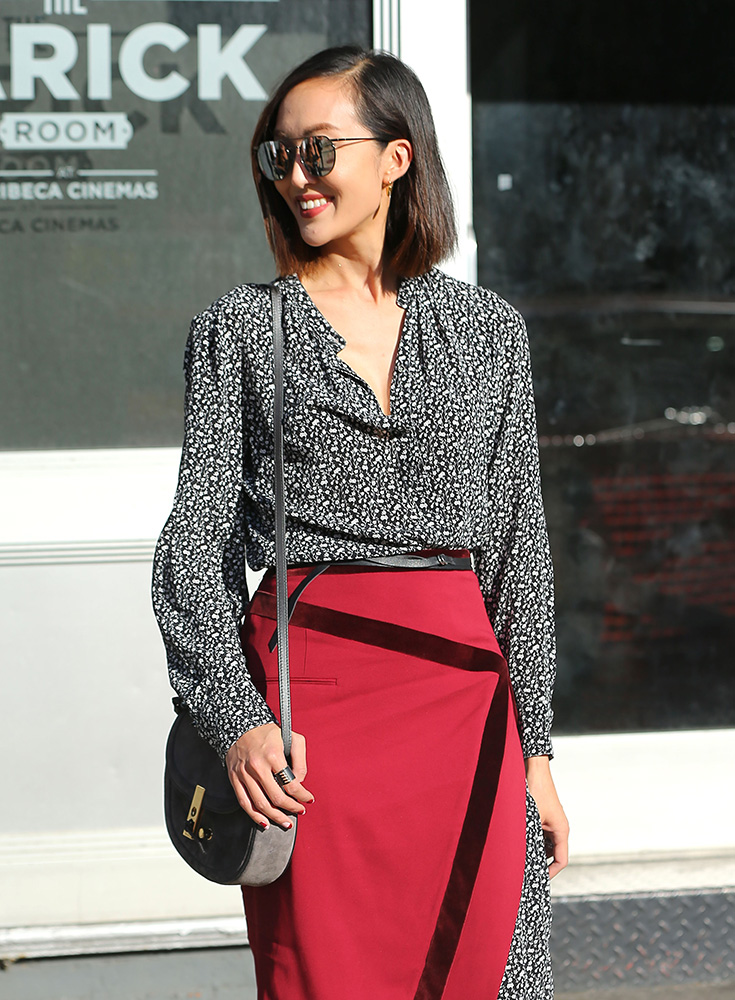 4 / 40
Cindy Crawford
Tom For Minaudiere

Tom Ford, as a brand, considers itself a citizen of the world and shows its collections whenever and wherever Ford feels like. This season, New York.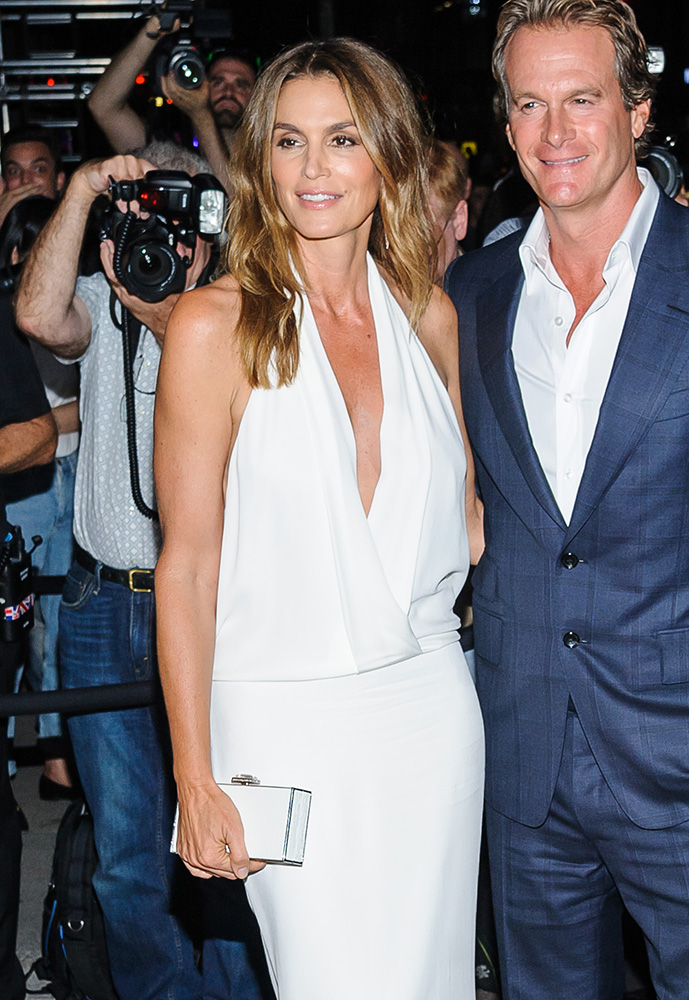 5 / 40
Courtney Love
Coach Rogue Bag

Among my favorite changes that Stuart Vevers has brought to Coach is his interesting choice in celebs for the brand's newly high-profile shows. Courtney looks great.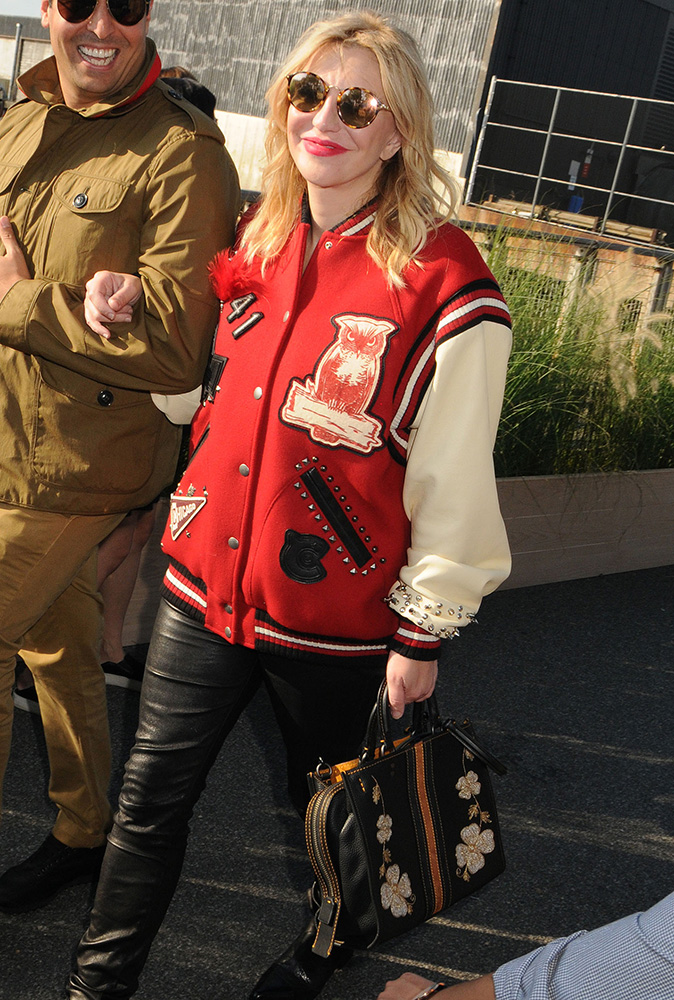 6 / 40
Elsa Hosk
Chanel Patchwork Flap Bag
Elsa is just about as dedicated to Chanel bags as a woman who gets tons of free designer goods can be.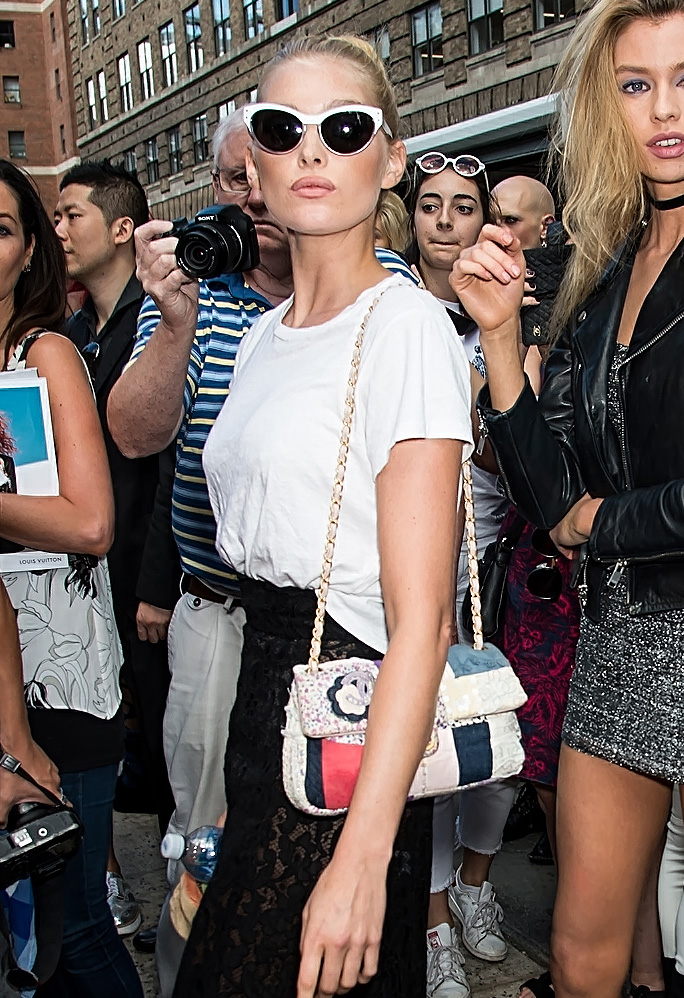 7 / 40
Emily Ratajkowski
Miu Miu Dahlia Shoulder Bag

The funny thing about this photo is Emily was going to an awards show to which some people wore evening gowns.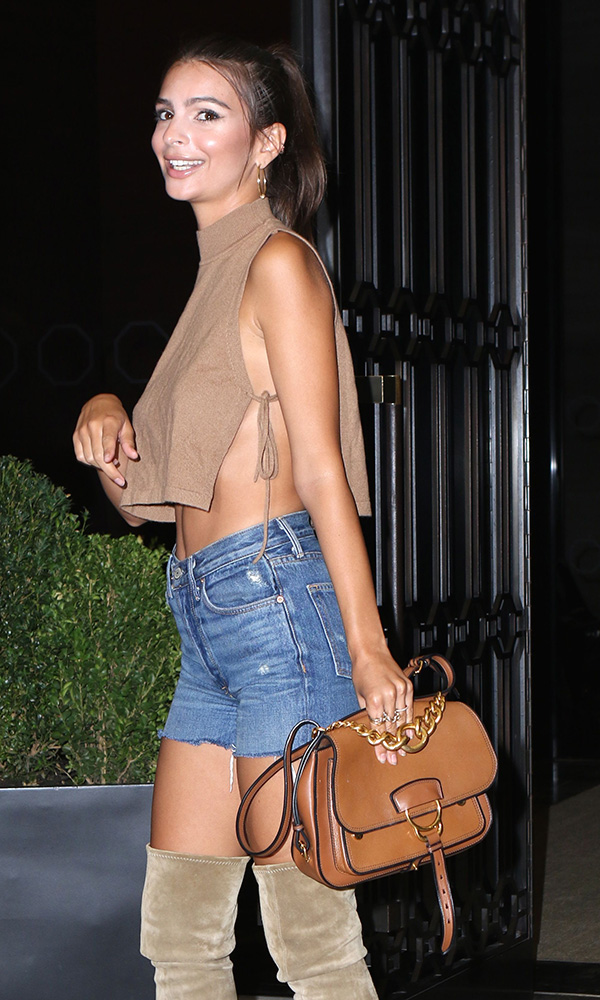 8 / 40
Emma Roberts
Coach Dinky Bag

Emma is another among the varied celeb lineup that supports Stuart Vevers's reign at Coach.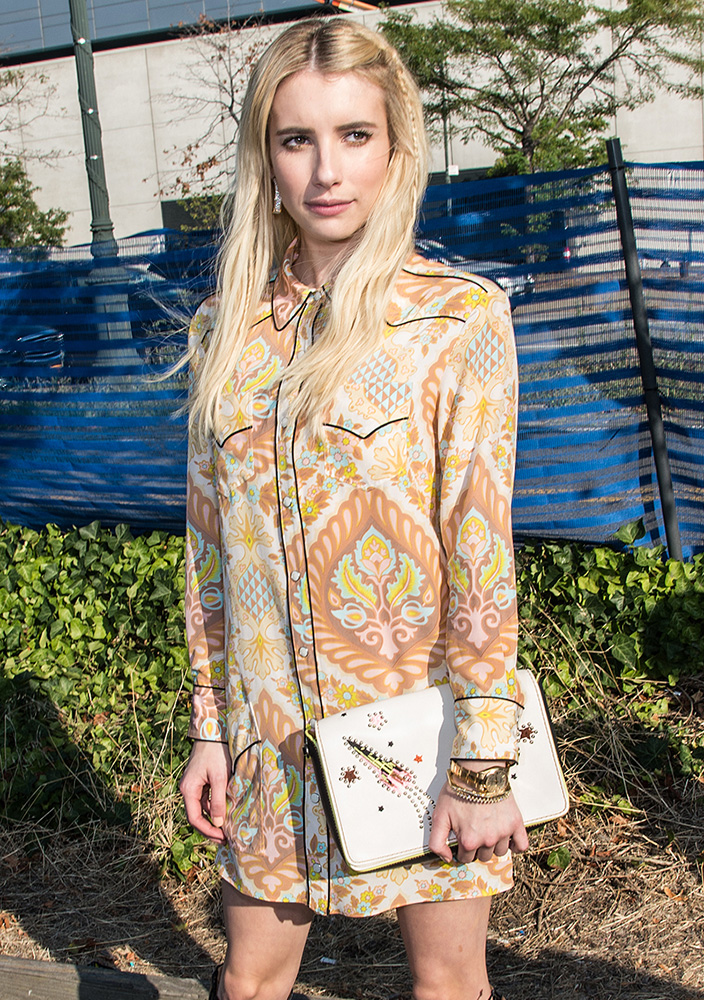 9 / 40
Emma Roberts
Coach Turnlock Saddle Bag

She supports him at night, too.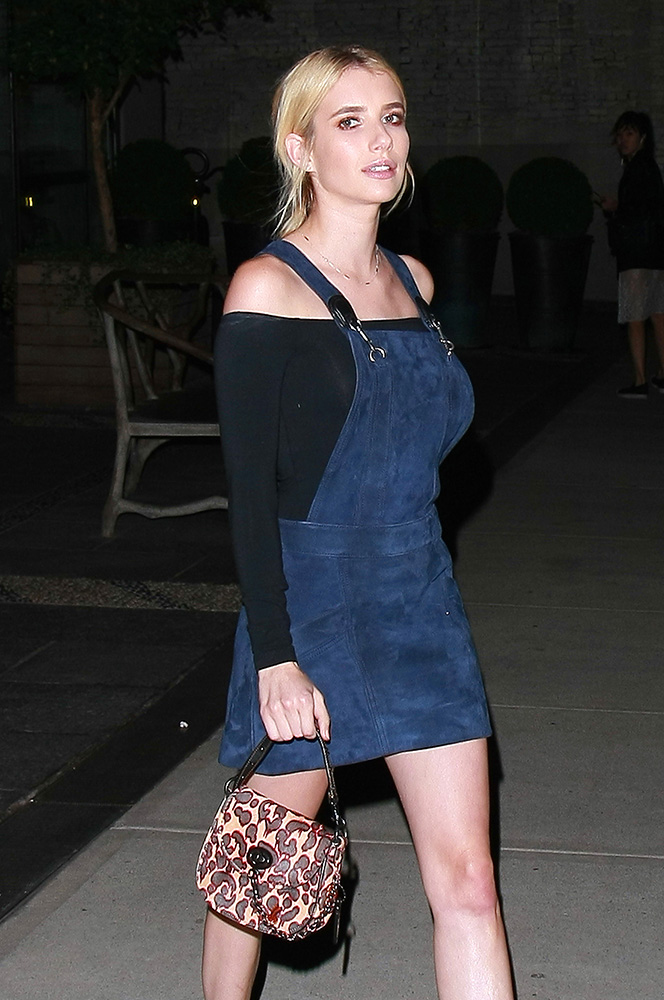 10 / 40
Eva Chen
Loewe Hammock Bag

Eva may be more behind-the-scenes at her position at Instagram than she was as an EIC, but her sense of style has clearly not wavered.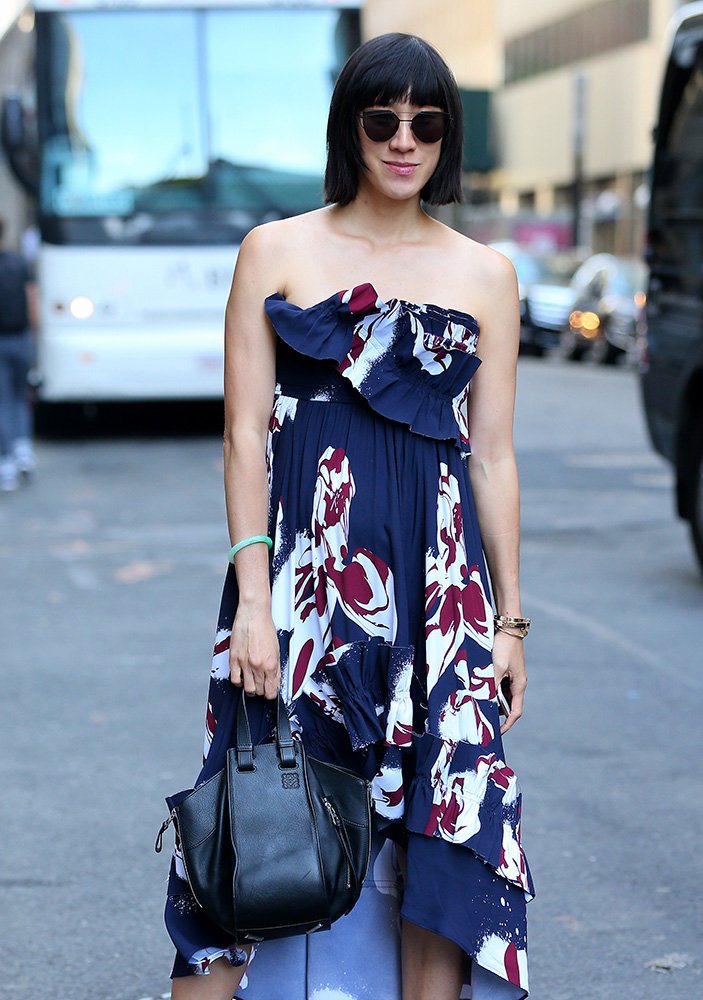 11 / 40
Gigi Hadid
Saint Laurent Sac de Jour Bag

Gigi debuted a big collection with Tommy Hilfiger at NYFW, but she stayed loyal to her other designer bags.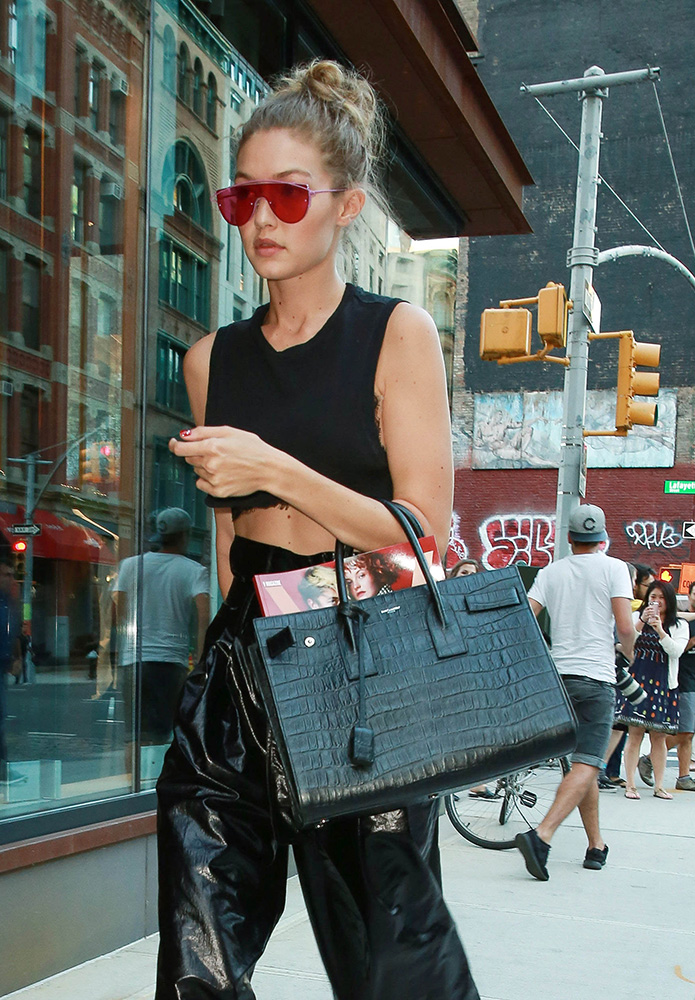 12 / 40
Gina Gershon
Tom Ford Minaudiere

Tom Ford is always a safe bet for an interesting guest list.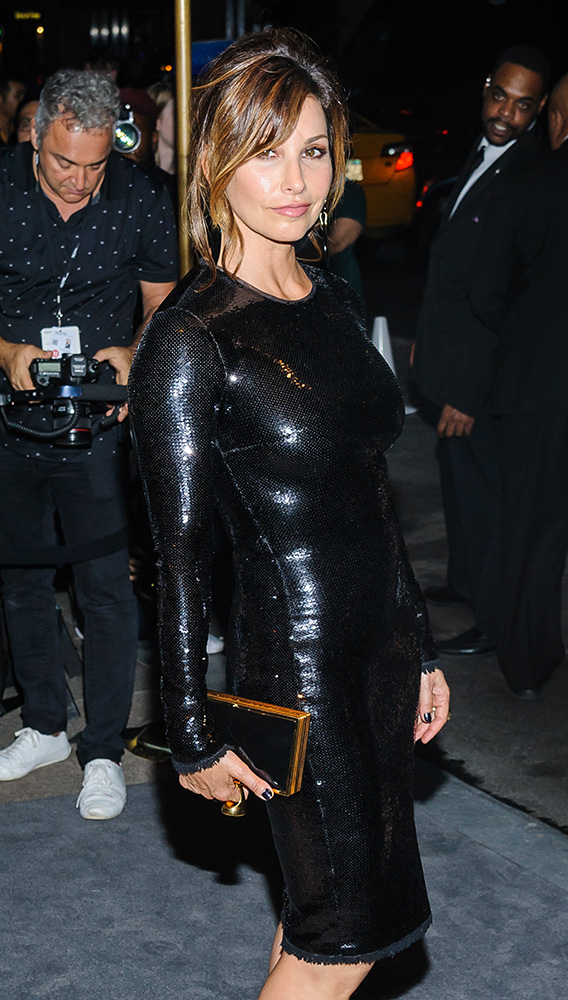 13 / 40
Glenda Bailey
Gabriela Hearst Nina Bag
I don't understand why so many establishment fashion people are into this bag. It is...not attractive?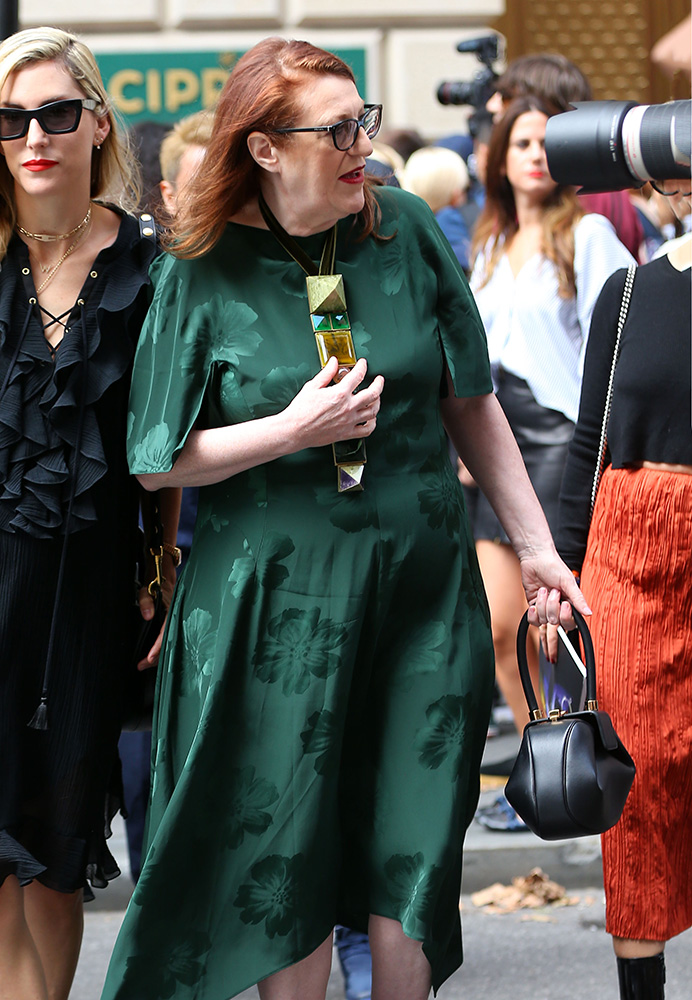 14 / 40
Hailey Baldwin
Givenchy Antigona Bag

For some reason, I was surprised to find out that Hailey Baldwin walked in a couple shows during fashion week, but then again, I'm not really sure what I assumed Hailey did for work, if not modeling.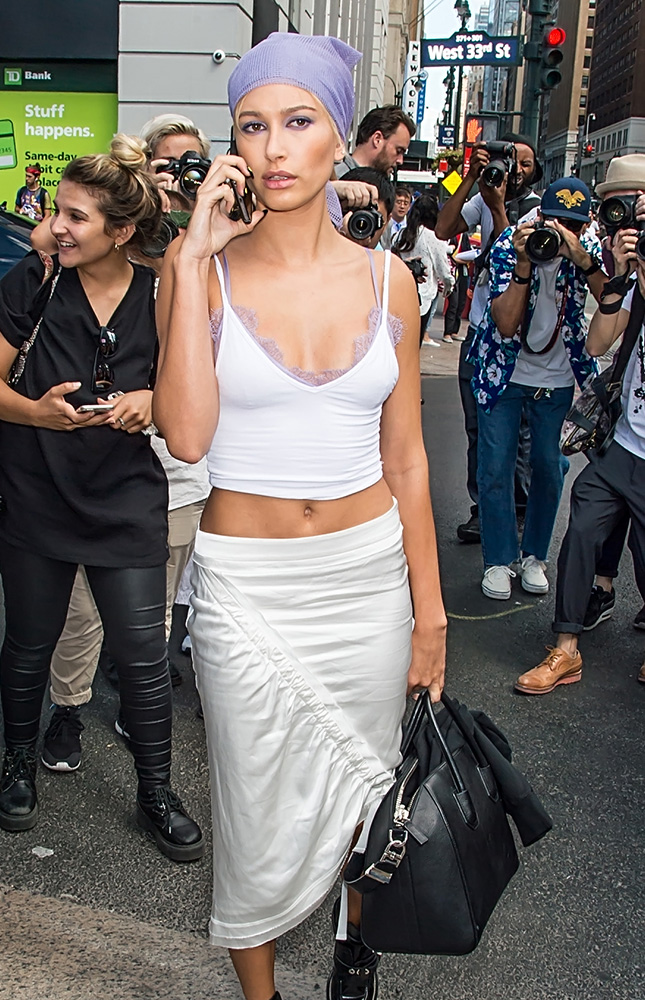 15 / 40
Hannah Bronfman
Chanel Boy Bag
If I had Ms. Bronfman's abs, you best believe I'd be in a crop top too.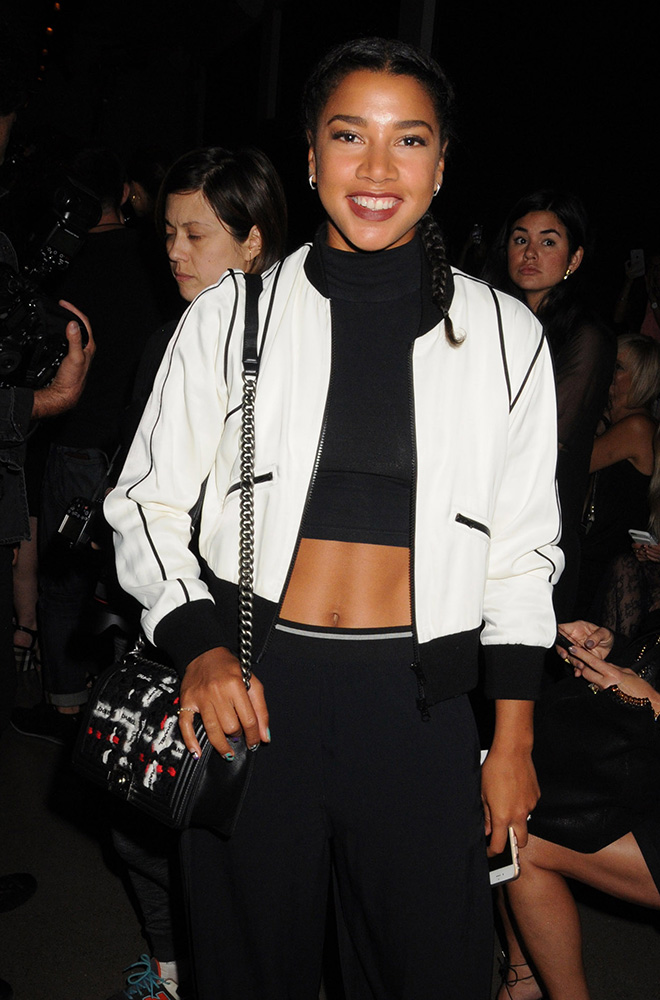 16 / 40
Helena Bordon
Prada Cahier Shoulder Bag

It's too early to tell how Prada's new designs will do with consumers, but celebrities and fashion "influencers" seem to be into them. (And so am I, honestly.)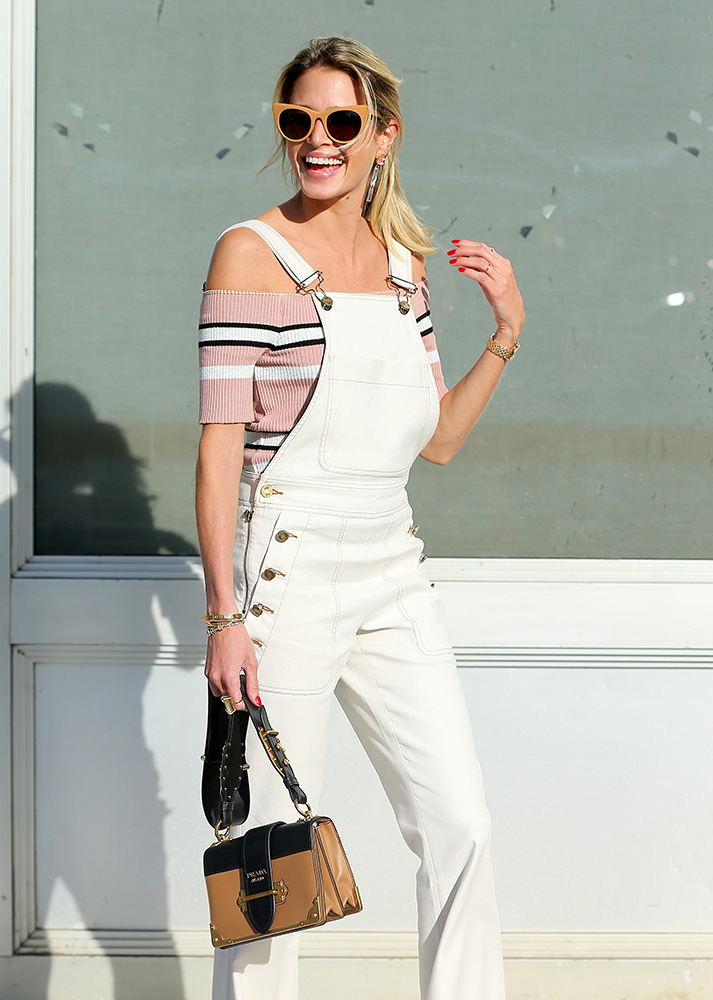 17 / 40
Ji Hye Park
Coach Rogue Bag

Coach has long been a quintessentially American brand, but Vevers's designs have helped it gain a more global following, which includes international celebs.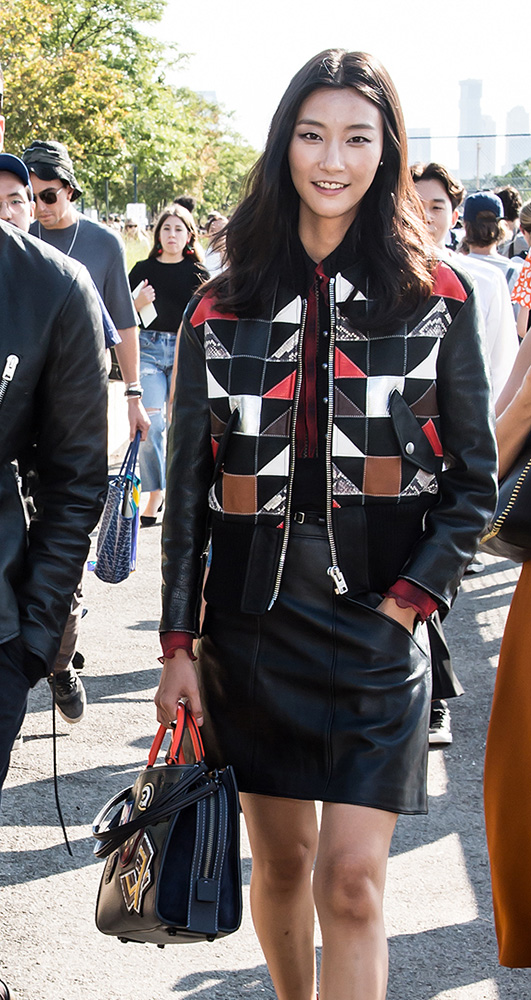 18 / 40
Jessica Alba
Narciso Rodriguez Clutch

There's always one or two actresses who end up all over NYFW in a given season, and for Spring 2017 it was Jessica Alba--she was everywhere.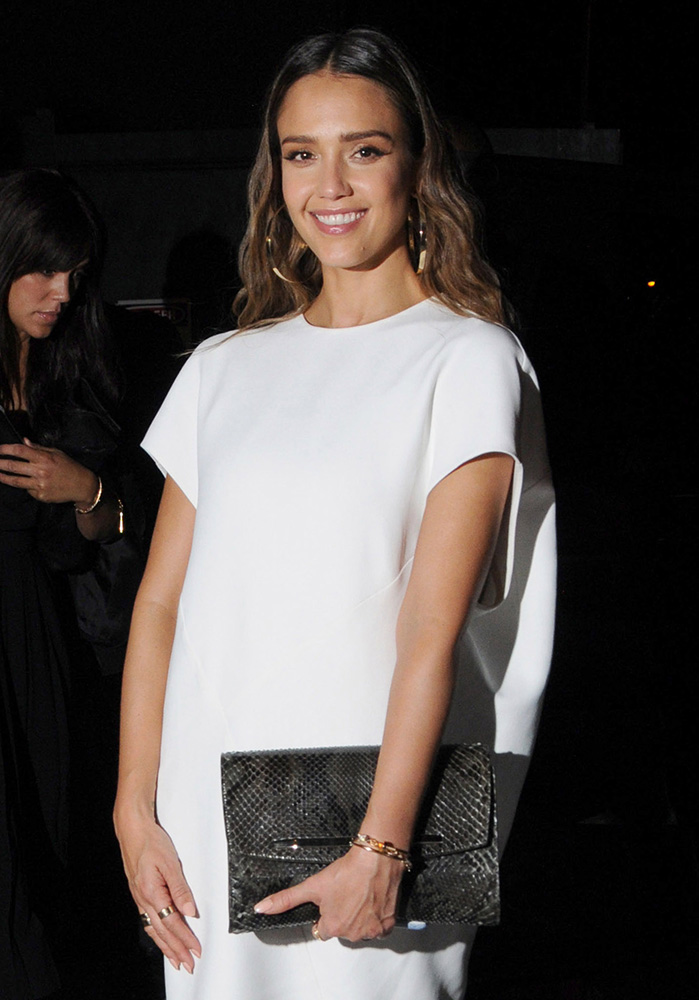 19 / 40
Jessica Alba
Saint Laurent Sac de Jour Bag

To her credit, she looked great everywhere she went.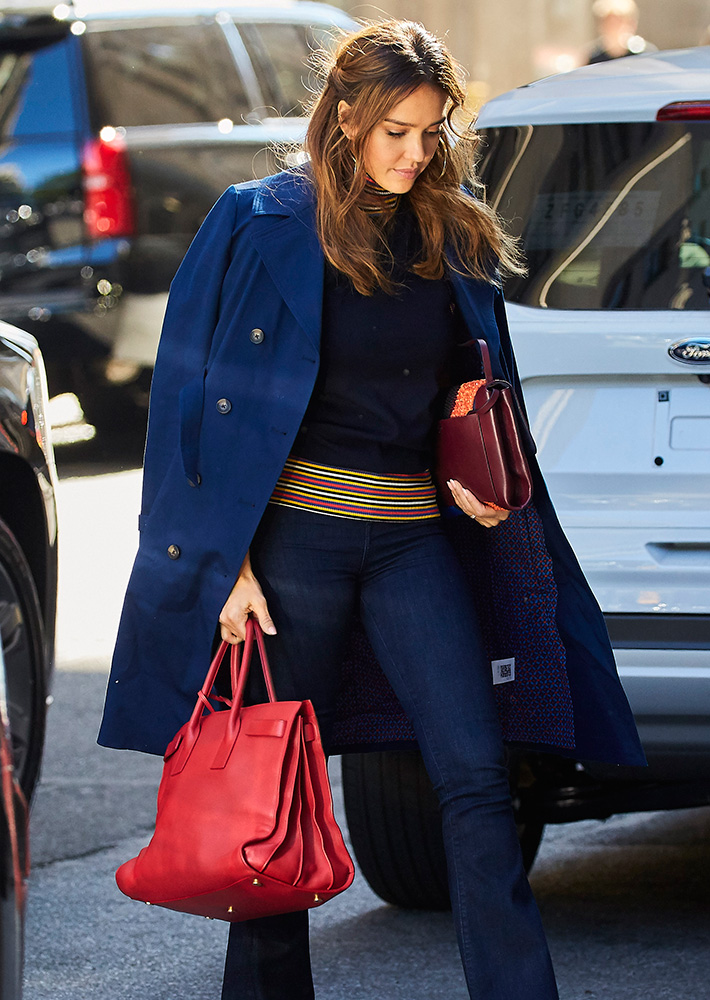 20 / 40
Jessica Alba
Tory Burch Multi-Stripe Convertible Bag

She was also particularly fond of this new Tory Burch bag all week.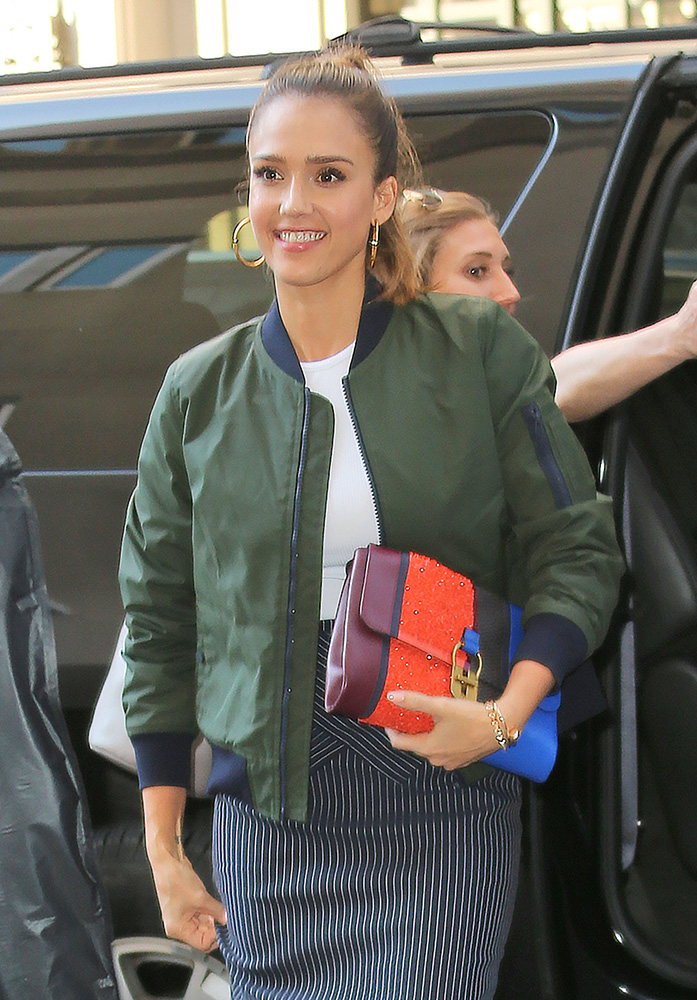 21 / 40
Julia Restoin Roitfeld
Chanel Shoulder Bag
Carine Roitfeld's daughter usually sticks to Paris Fashion Week, but this season she was surprisingly present in NYC.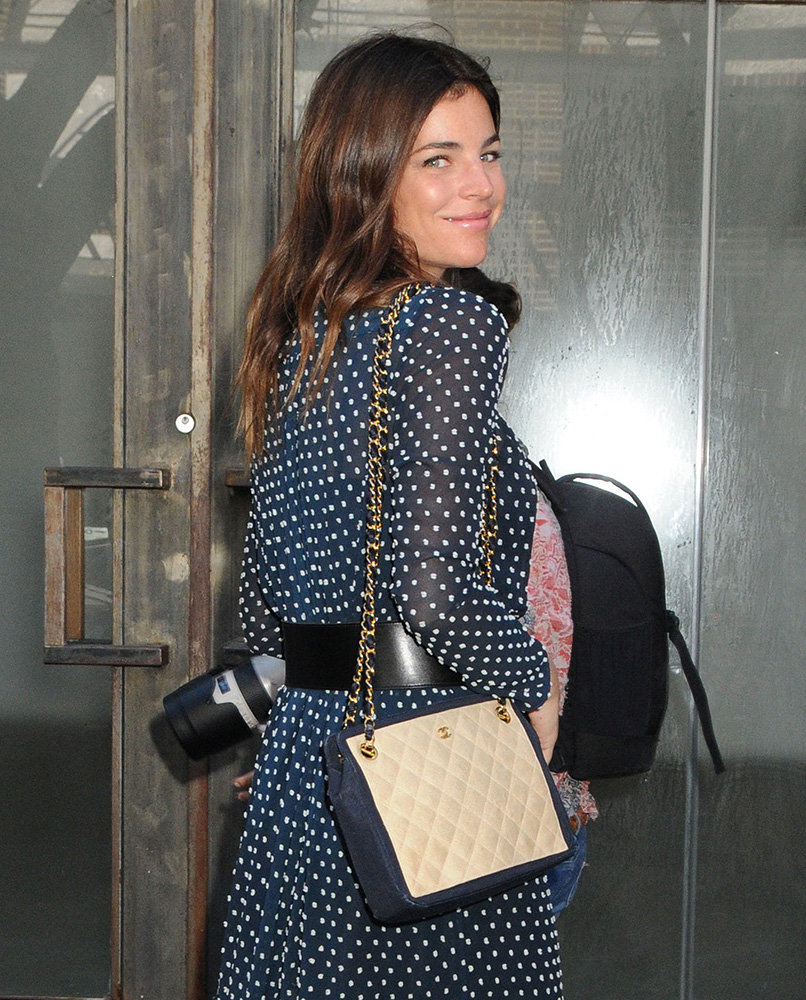 22 / 40
Karolina Kurkova
Chanel Flap Bag
Anyone else suddenly craving a little blue velvet bag?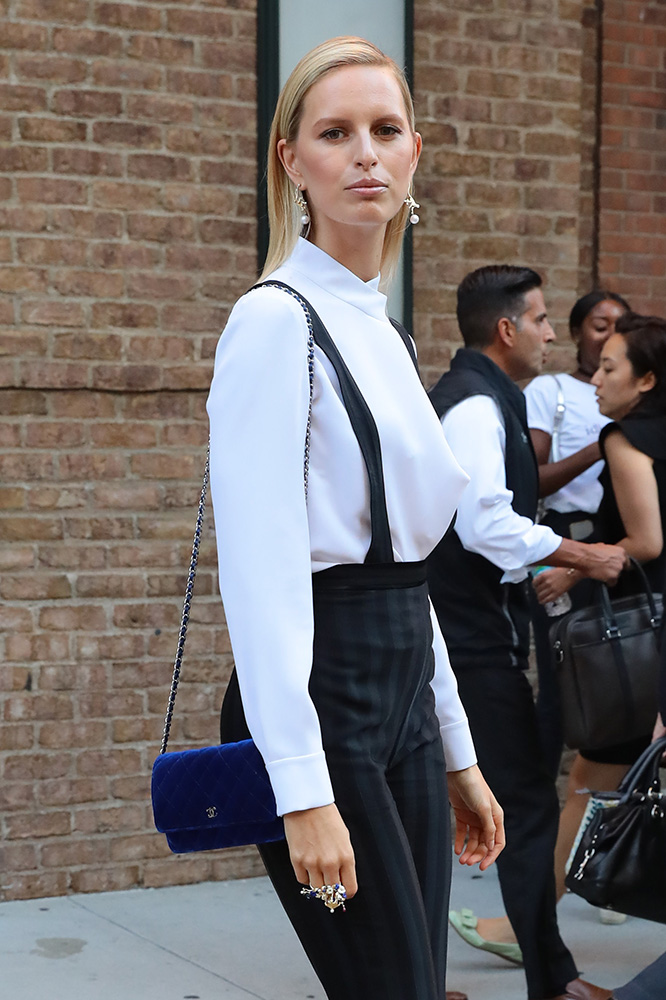 23 / 40
Karreuche Tran
Alexander Wang Roxy Bucket Bag

Alexander Wang always hosts a blowout, and Karreuche sure looks like she's ready to attend a party.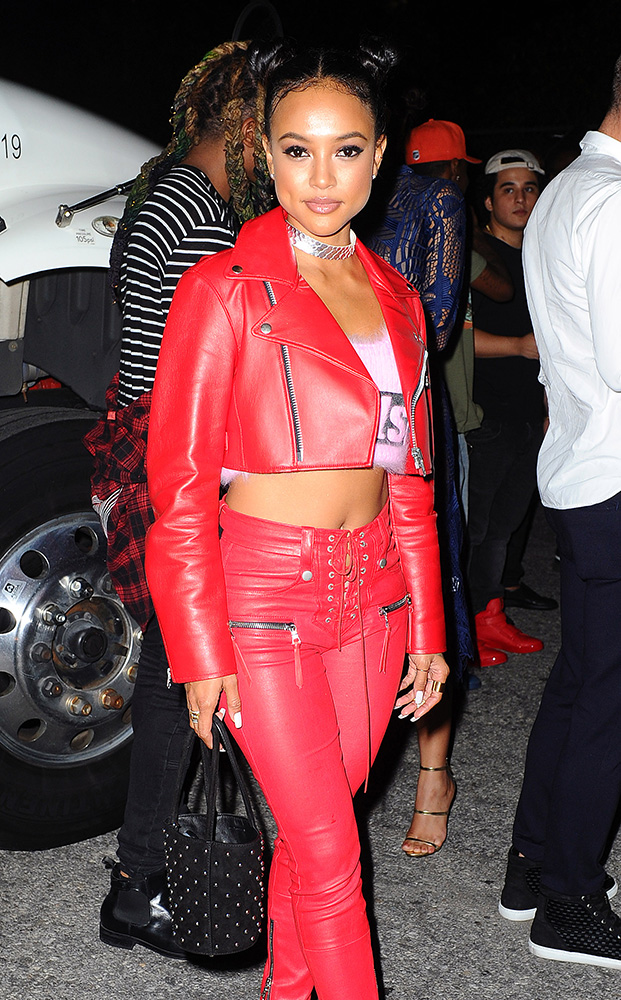 24 / 40
Leaf Greener
Delvaux Brillant Bag

I'm obsessed with the sleeves on this shirt.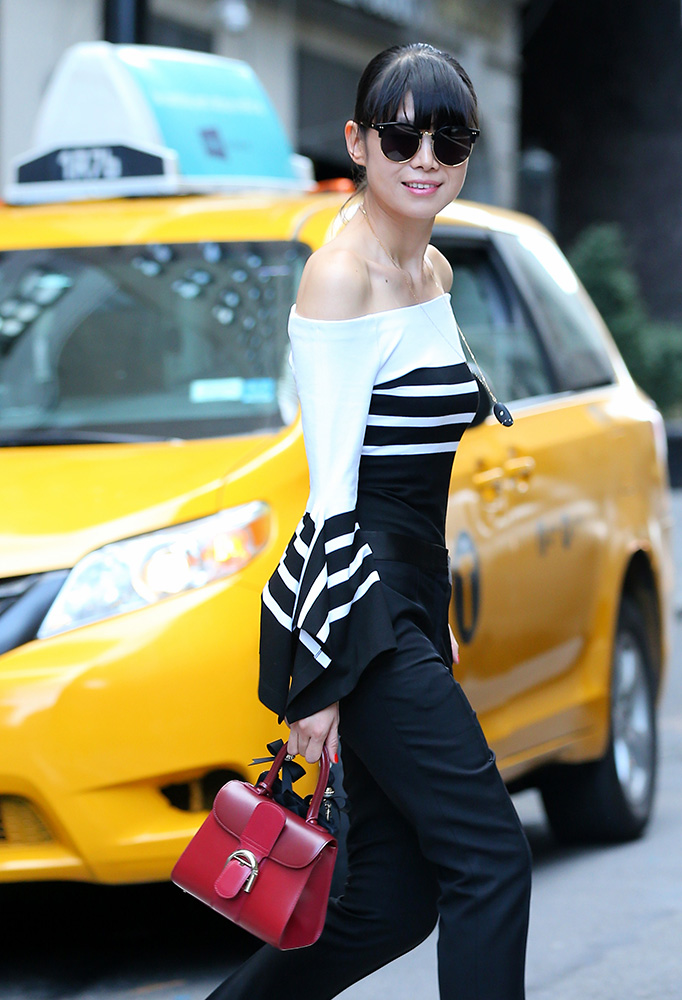 25 / 40
Miroslava Duma
Proenza Schouler Hava Top Handle Bag

Miroslava used to be quite the street style swan, but she's toned it down to something much more relatable and wearable in the past season or two.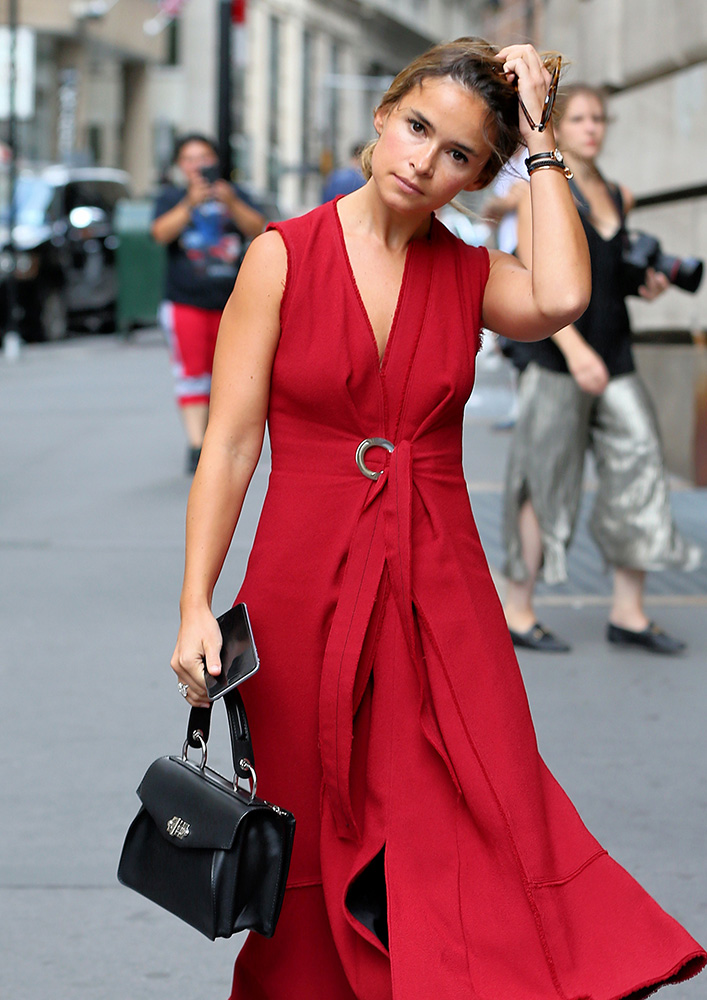 26 / 40
Nicky Hilton
Dior Mini Lady Dior Bag
Nicky, on the other hand, becomes ever more ladylike as the seasons pass.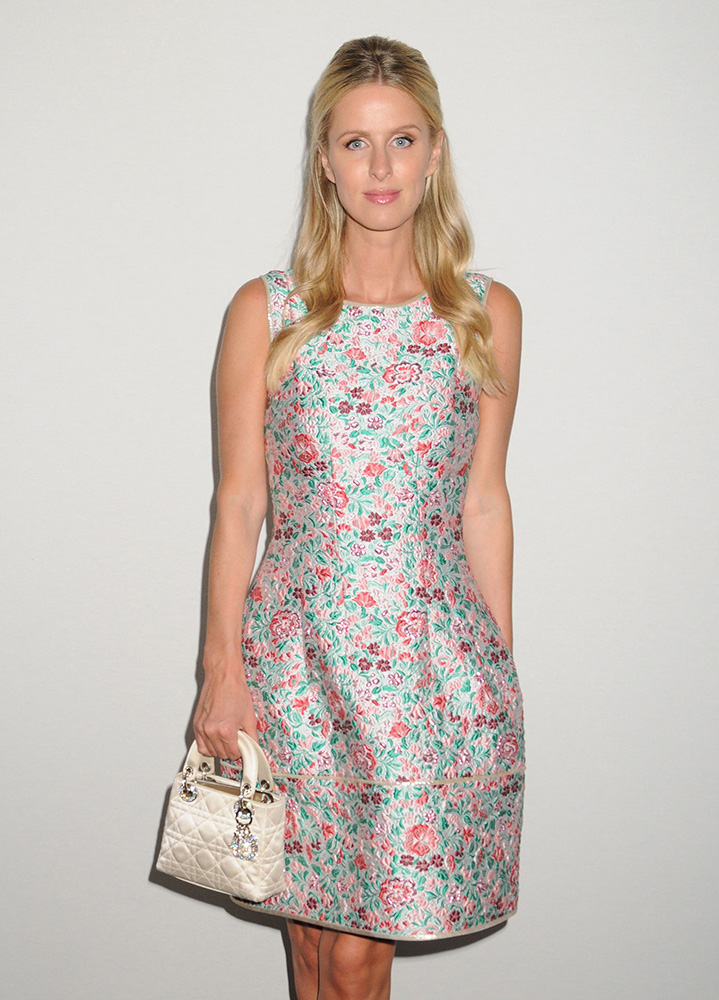 27 / 40
Nicky Hilton
Hermès Kelly Bag
All of her NYFW looks this season were fit for a garden party.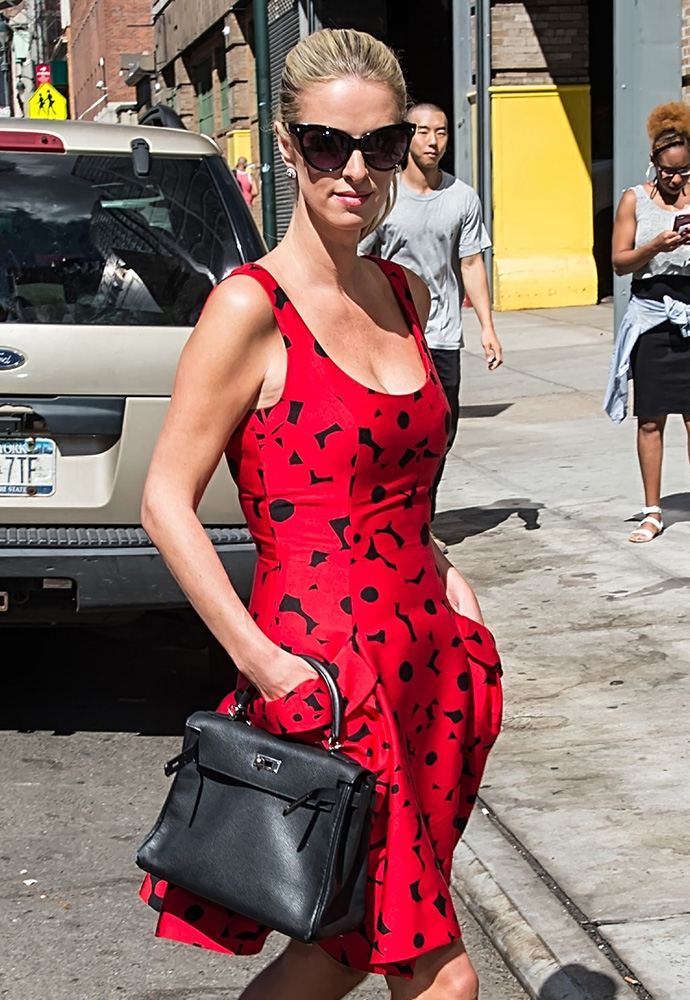 28 / 40
Olivia Palermo
Salar Milano Mini Bag
We're always happy when fashion week street style is a conduit to finding a new, small bag brand.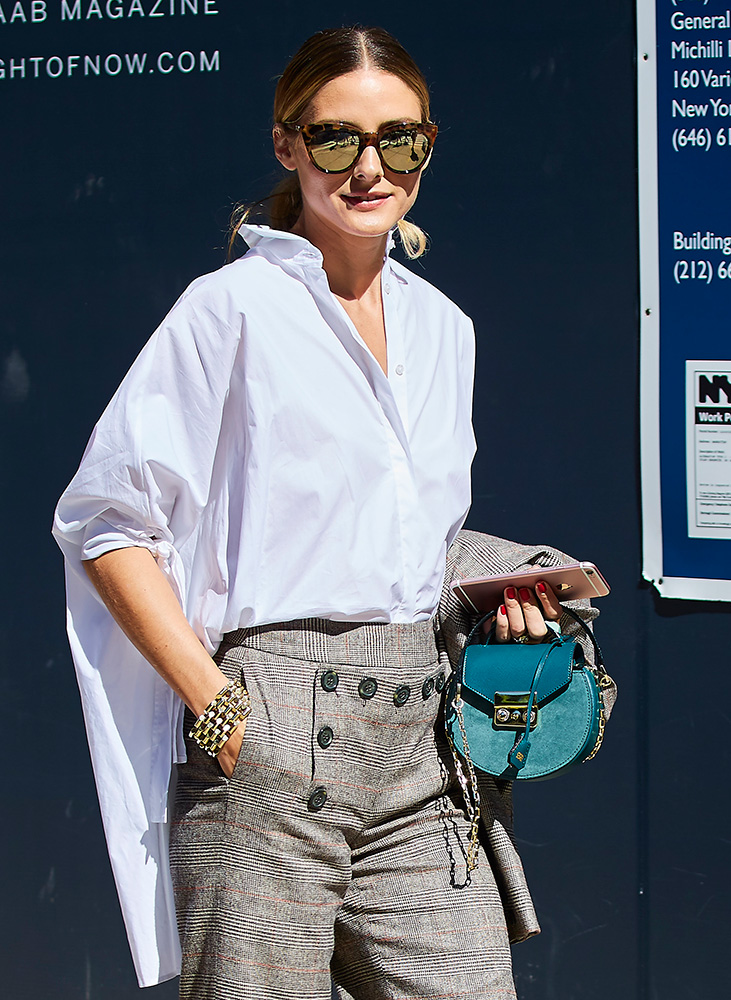 29 / 40
Paris Hilton
Moschino Powerpuff Girls Bag

Sure, why not.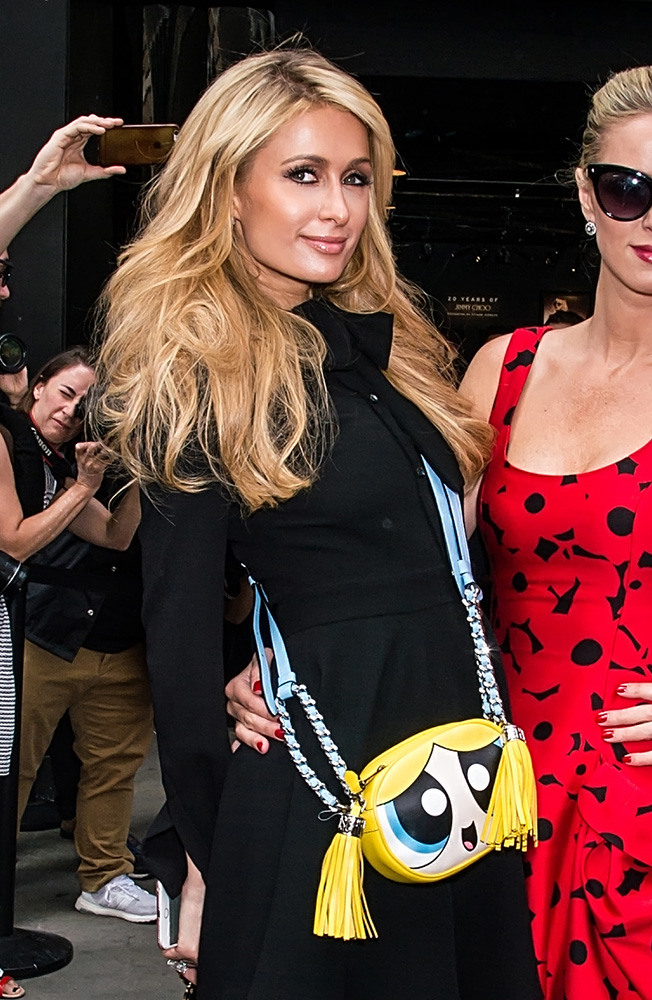 30 / 40
Priyanka Chopra
Altuzarra Ghianda Chain Strap Shoulder Bag

Like I said earlier in this post: Altuzarra's bags are such a welcome addition to the market.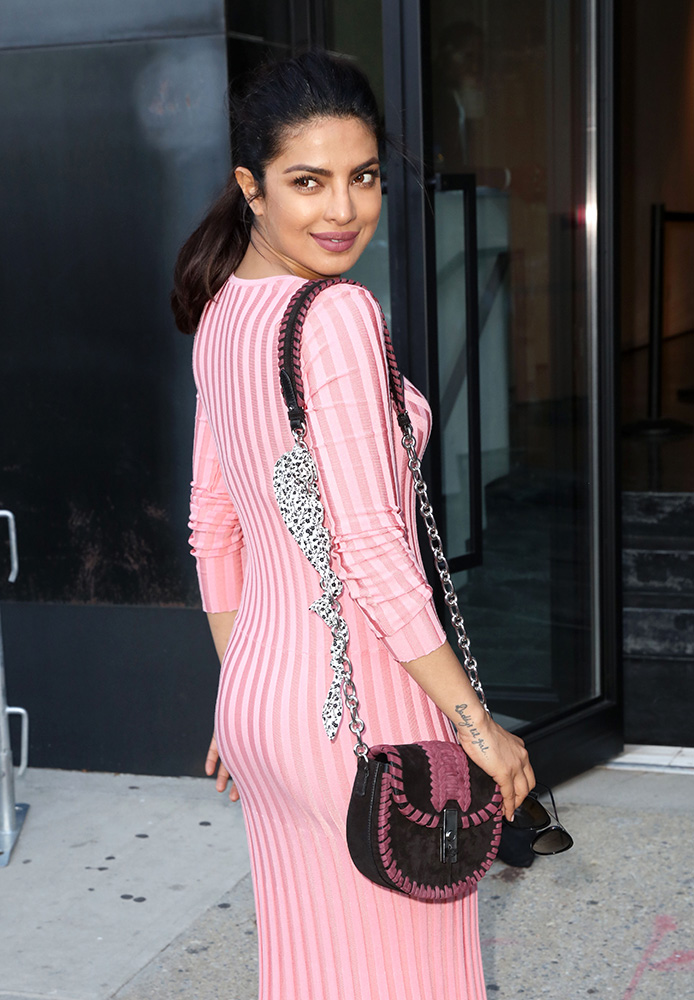 31 / 40
Qin Li
Tory Burch Mini Bag

This dress makes me wish it weren't about to be cold outside.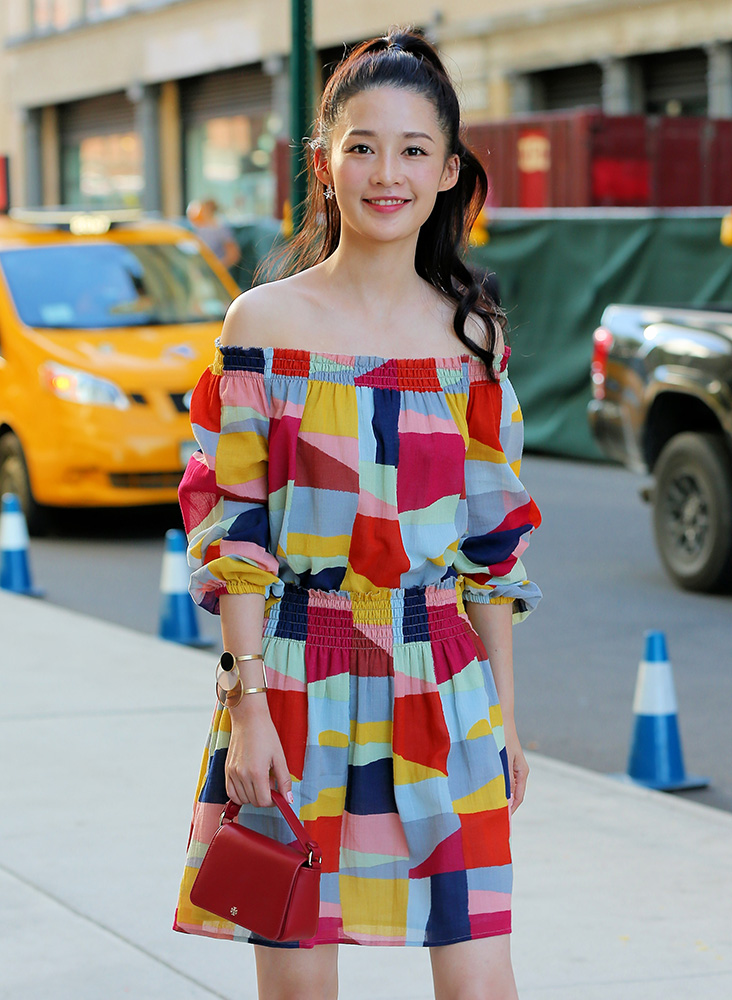 32 / 40
Riley Keough
Coach Rogue Bag

If I had to deal with paparazzi, this is the face I'd be making all the time.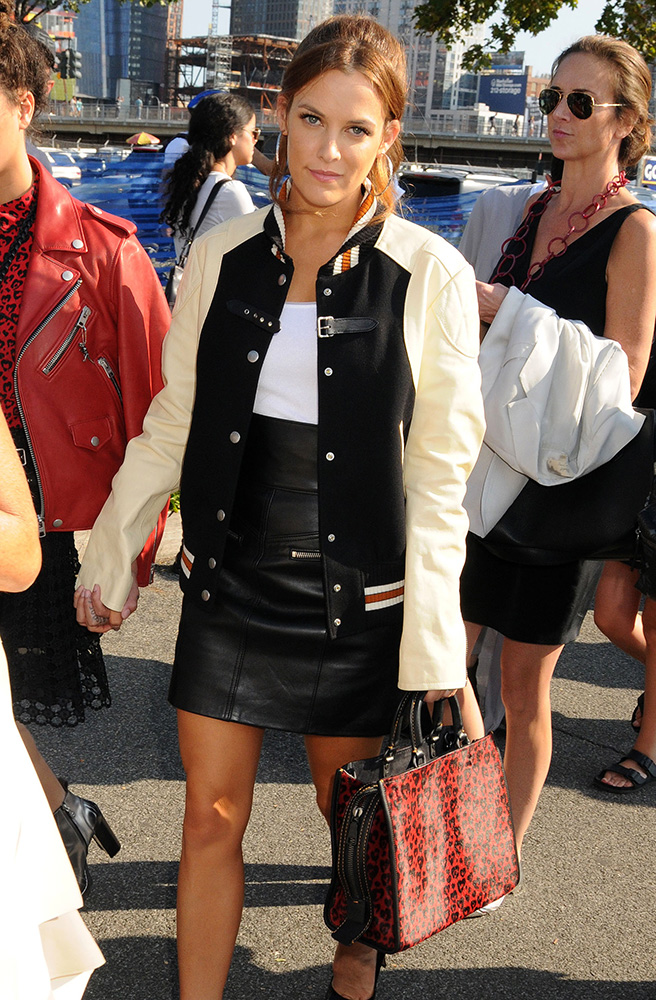 33 / 40
Sara Sampaio
Chloé Drew Bag

This is just about as no-muss, no-fuss as a fashion week outfit gets.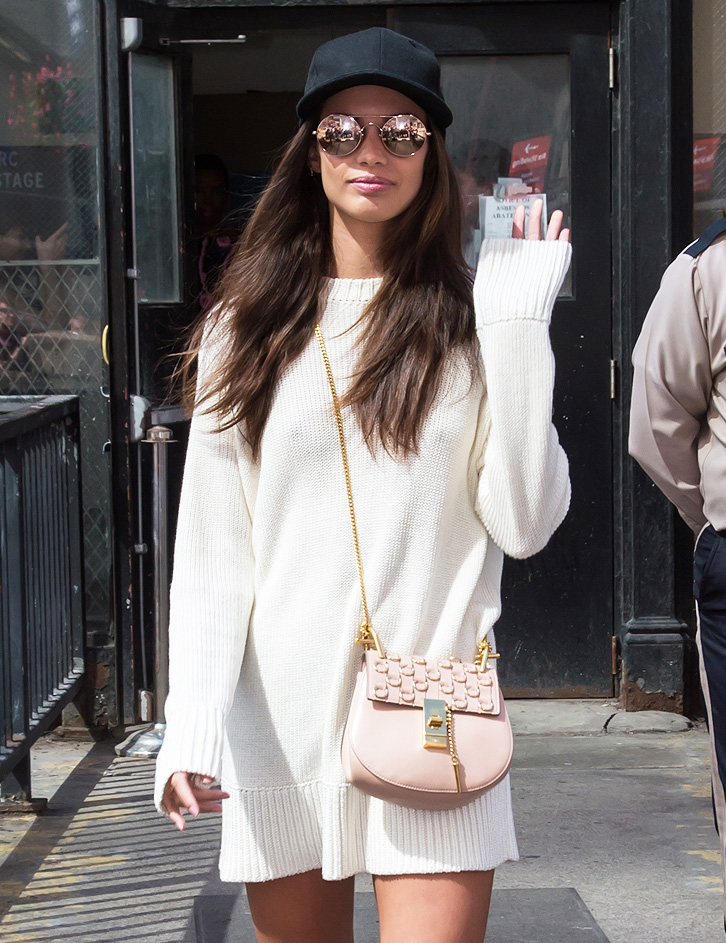 34 / 40
Serena Williams
Coach Varsity Patch Turnlock Saddle Bag

What do Courtney Love and Serena Williams have in common? Coach show attendance!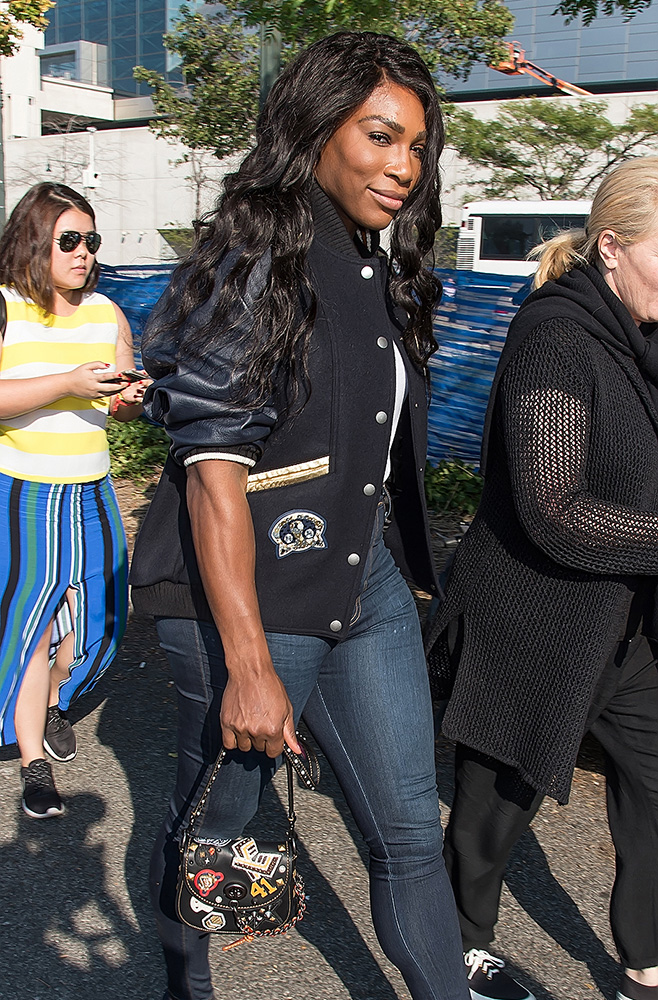 35 / 40
Susie Bubble
Altuzarra Ghianda Hobo

The bag is beautiful, of course, but am I the only one who didn't know Susie was expecting?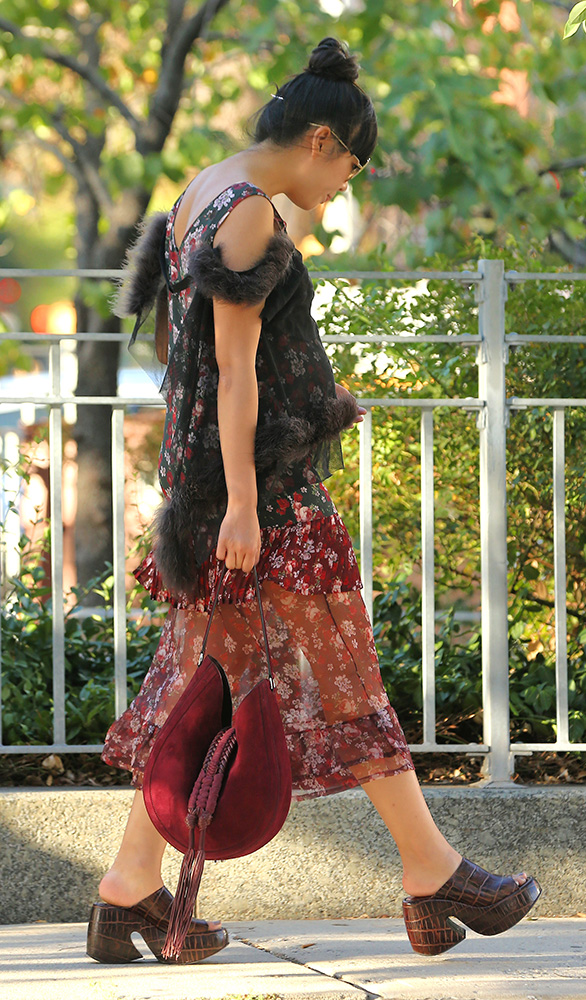 36 / 40
Tavi Gevinson
Proenza Schouler Hava Bag

Tavi has grown up to be such an accomplished young woman and I feel very motherly toward her.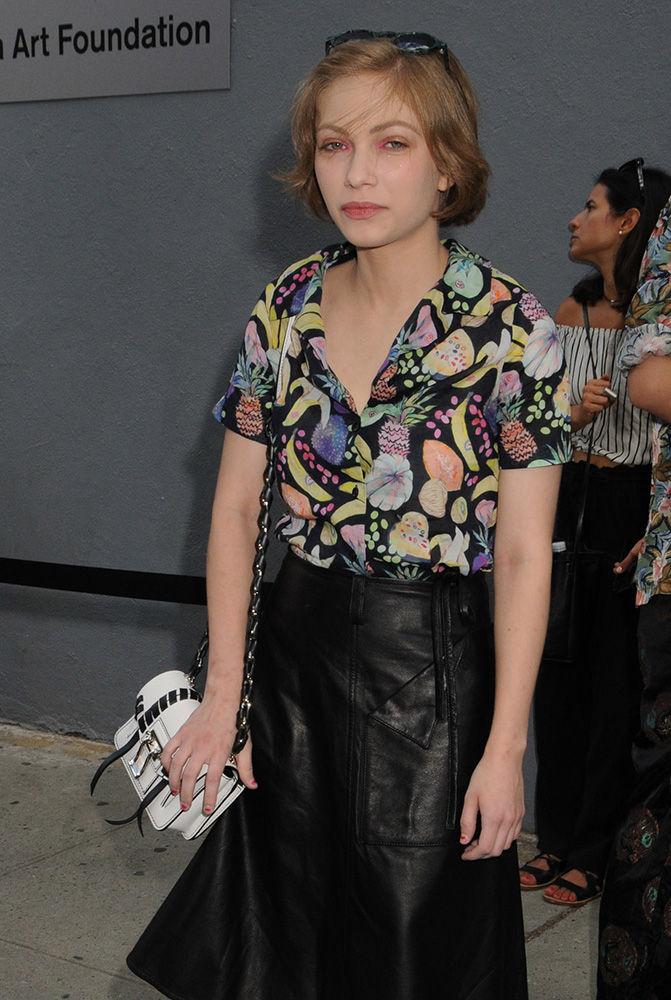 37 / 40
Teyana Taylor
Saint Laurent Sac de Jour Bag

I can't be the only one of us who googled "Teyana Taylor workout" after seeing the Fade video.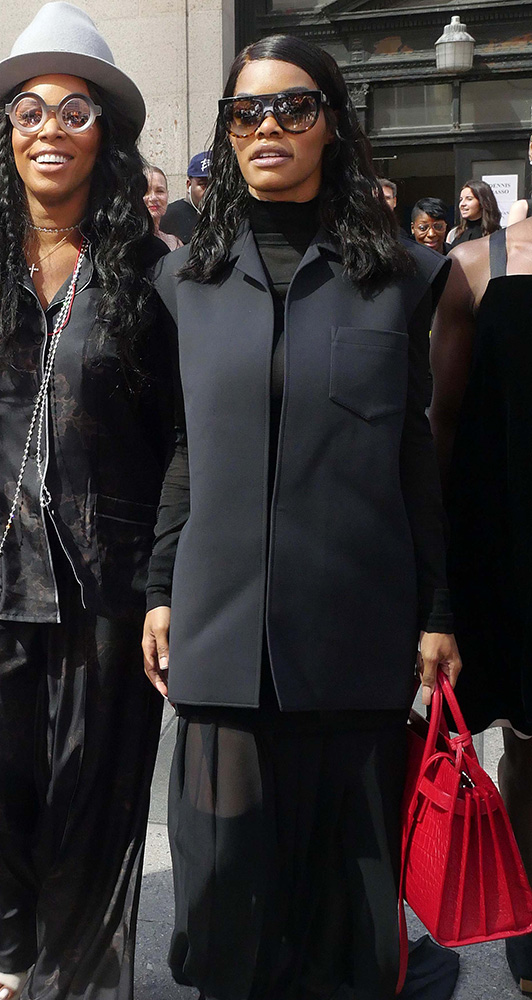 38 / 40
Victoria Beckham
Victoria Beckham Bag

Carrying one's own bag, as one does.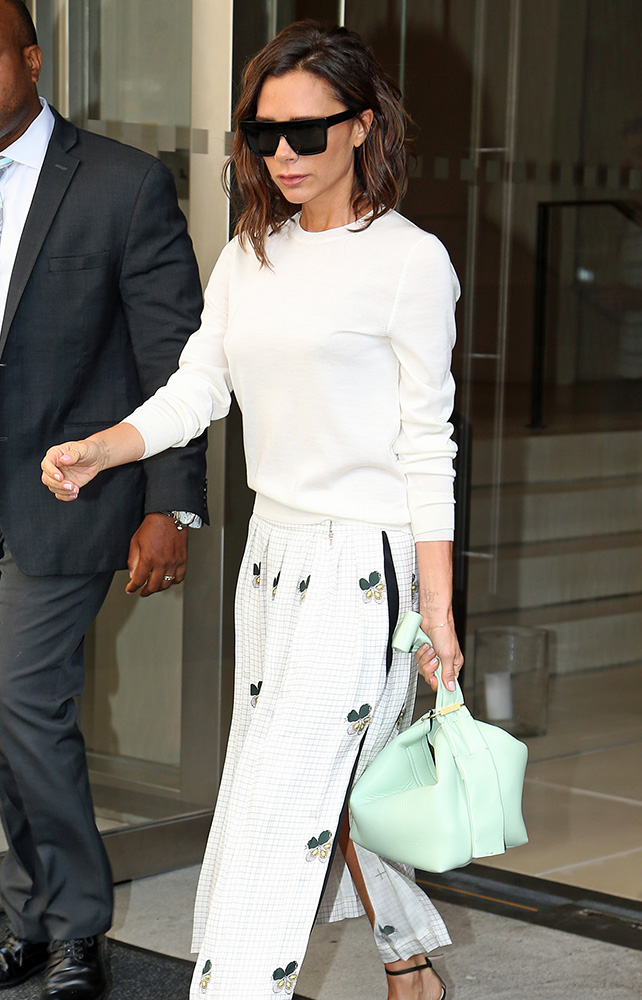 39 / 40
Zendaya
Chanel Classic Flap Bag
Zendaya was on hand to help host the Project Runway finale show.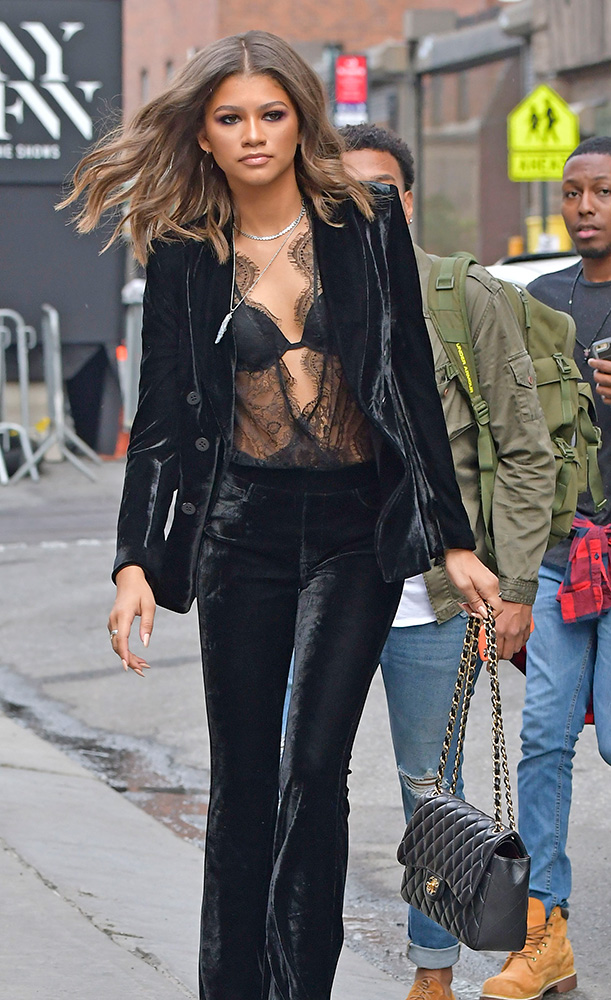 40 / 40
Zoë Kravitz
Alexander Wang Roxy Bucket Bag

This is one of the most flawless executions of no-makeup makeup that I've ever seen. Bravo.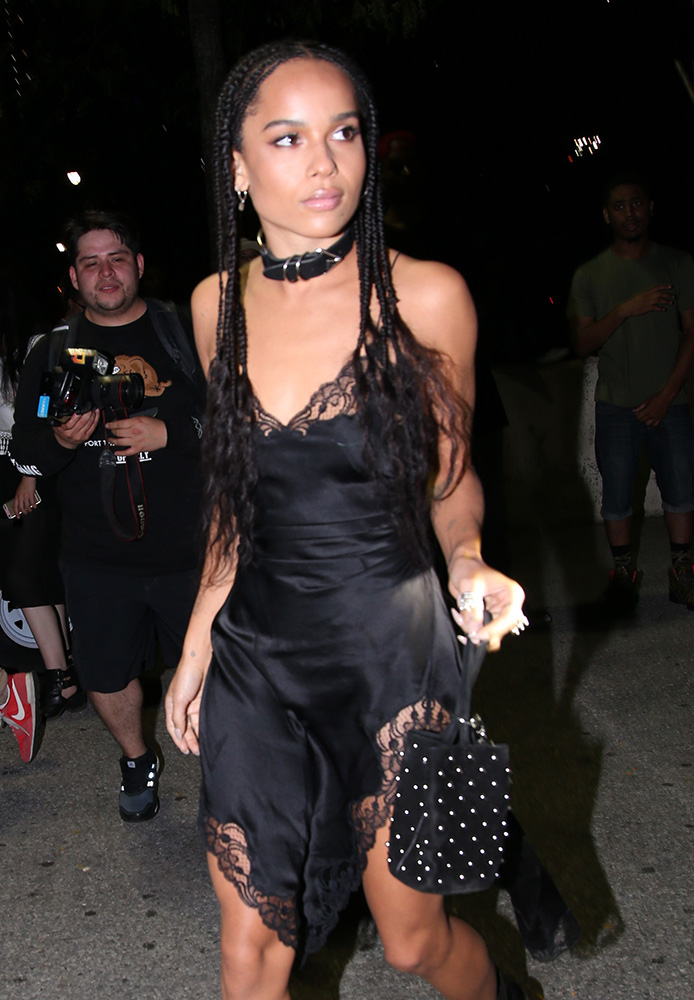 comnum(0) tbcount(0) tbcount(2)
Categories:
Other Brands
Are bags the greatest love of your life? If you're like us who makes it a point to get the latest stories about these beautiful creations, you'll definitely swoon over Chanel's Fall Winter 2016 Handbag Collection.
The collection has a wide array of bags that you can choose from. Trust us, there will always be that one bag that is meant for you, just like in love. Chanel's Fall Winter 2016 Collection features different sizes, types, and materials. There are those flap bags we've loved since day one that comes in tweed and other materials, a handy backpack, and a bucket bag to name a few.
Categories

New Posts

Hot Posts